Shipbuilding steel is a kind of steel plate used by shipyards, shipbuilding companies and dockyards to manufacture hulls of cargo and passenger ships, boats, offshore drilling platforms, gateways and other structures and vessels. Besides steel plates, the industry also uses steel sheets in coils or cut to length, steel profiles (steel bulb flats, rounds and squares), and round and profiled tubes made from shipbuilding steel grades. Shipbuilding steel is produced under the control of certifying societies, sea and river registers (Det Norske Veritas Germanischer Lloyd, Registro Italiano Navale, Bureau Veritas, Lloyds Register, Nippon Kaiji Kyokai, American Bureau of Shipping, the Shipping Register of Ukraine and others).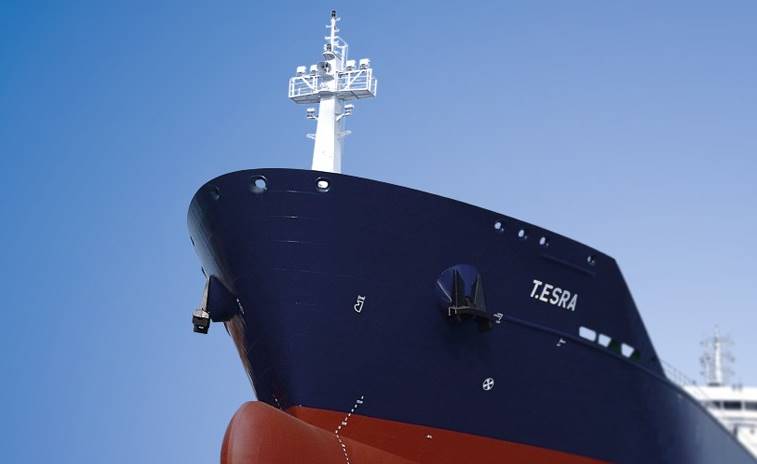 Manufacture of steel plates for shipbuilding
Shipbuilding steel is produced in plates on reversing hot-rolling mills with one to three sequentially located mill stands. Rolled and continuously cast slabs are used as feedstock.
The production technology includes:
heating slabs in a continuous reheating furnace, after which they are transferred to the entry roller table and transported to the first mill stand;
rolling slabs into plates at a specified temperature, speed and deformation mode, which ensure the required parameters of the finished steel;
finishing and heat treatment (where necessary). Rolled steel finishing includes cutting the head and tail ends of workpieces, levelling, cutting side edges, cutting to length, marking, non-destructive testing and transferring to the storage area.
All of these production stages make up a single process flow, except for finishing and heat treatment of heavy plates, which require long-cycle operations with the transfer of metal to intermediate process storage areas. Shipbuilding steel can be supplied as hot-rolled, heat treated (normalised or quenched and tempered) as well as be subject to normalising or thermomechanical rolling.
Shipbuilding plates classification, product range and properties
Shipbuilding plates provide the required strength, plasticity and ductility during the long operation of vessel body structures at various temperatures. Shipbuilding steel has fair corrosion resistance and properties for easy cold and hot deformation and welding. The material is suitable for gas, plasma and laser-cutting.
Modern marina steels meet the requirements of International Association of Classification Societies (IACS). International practice uses standardised categories for steels intended for hulls (А, В, D, Е, F) based on yield strength and impact energy at various temperatures.
Based on strength properties, steel to make vessel hulls is known as normal-strength steel with a minimum yield strength of 235 MPa (24 kgf/mm2) and higher-strength of three categories: with a guaranteed yield strength of 315 (32), 355 (36) and 390 (40) MPa (kgf/mm2).
Resistance to brittle fracture of normal-strength steel is assessed based on the value of impact energy on sharply notched specimens at a certain test temperature. Shipbuilding steel of A grade (category) is not subject to impact bending tests. Marina steel grades (categories) В, D, Е, and F must ensure the required impact energy at test temperatures of 0, -20, -40 and -60 °С, respectively. Mechanical properties of normal and higher-strength for ship hulls are set by the international maritime registers RINA, LR, GL, DNV, DNV-GL, BV, ABS, RRSR, RSU, NKK, IRS, etc, and by GOST 5521-86 "Rolled Steel For Shipbuilding".
Application of shipbuilding steel
Shipbuilding steel plates are used to manufacture ship hulls (bottom, deck, floors and bulkheads) and elements of offshore platforms and structures. The requirements include high strength, low-temperature ductility, corrosion resistance and weldability (low carbon equivalent).
To reduce the steel intensity of projects, shipbuilding companies are increasingly using high-strength steel, which has been thermomechanically rolled or quenched and tempered. To reduce the amount of welding operations, shipyards use large shipbuilding plates that are 3 to 4 metres wide and up to 20 metres long.
Sizes in high demand:

Thickness, mm

Width, mm

Length, mm

4-200

1500-4000

Up to 20000

Weight, t

Up to 40

grades in high demand

A, B, D, E, A32, D32, E32, A36, D36, E36, A40, D40, E40, F40, AH32, DH32, EH32, AH36, DH36, EH36, AH40, DH40, EH40 and their equivalents

Delivery condition
Hot-rolled, normalised rolled or normalised, thermomechanically rolled, and quenched and tempered
Buy shipbuilding steel from the manufacturer
Metinvest is one of the world's main producers of steel plates for shipbuilding. Shipbuilding steel can be purchased through the global sales network of 38 sales offices in Europe, Asia, Africa and America, as well as 16 metal service centres in Ukraine and authorised dealers.
Get in touch
Find the nearest office
Subscribe to our newsletter