Plates are mainly used in construction, bridge building, and to fabricate steel structures for general applications. Carbon and low-alloy rolled steel with good weldability, high strength, ductility and crack resistance is in high demand in this segment. For some applications, structural rolled steel shall have improved atmospheric corrosion resistance.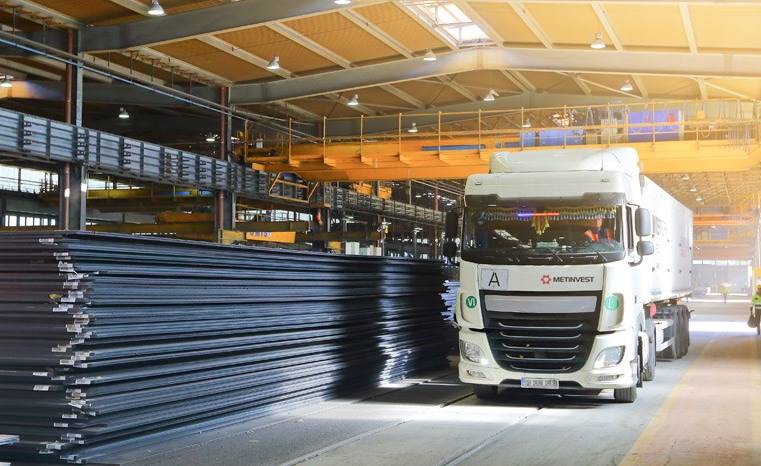 Application structural and general use steel
Structural steel plates intended for steelwork fabrication:
Welded H-beams, columns and other supporting profiles made by cutting and processing steel plates

Building floorings and elements of the superstructure of bridges, highlines and galleries

Medium and large-diameter pipes, which can be used both for utility lines (pipelines, chimney stacks, cabling, etc) and as supports for constructions and bridges
Structural steel plates of improved strength and high strength make it possible to manufacture more stressed steel structures or lower the overall metal consumption under the project by reducing the section size of members made of high-strength steel as compared with the traditional material with the same compression strength. Using thermomechanically rolled or quenched steel plates for welded columns of modern high-rise buildings can provide 20-30% savings in rolled steel.
Application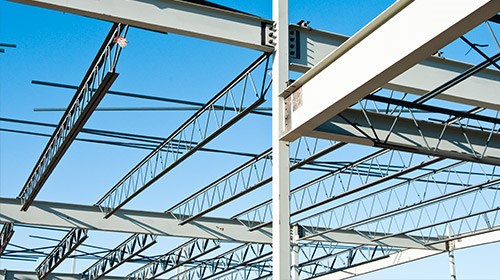 Construction and revamp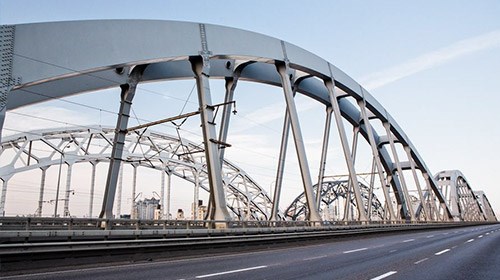 Bridge construction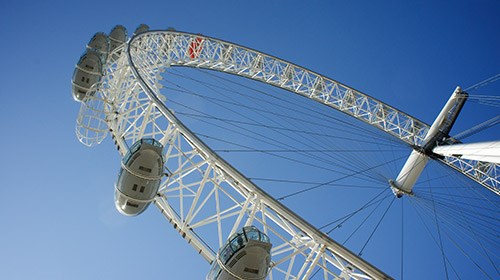 Manufacture of steel structures for various applications
Structural steel classification and properties
Structural steel plates intended for construction, bridge building and other steelwork fabrication are produced in accordance with international and national standards, the most common of which are:
European standard EN 10025 and its Ukrainian equivalent DSTU EN 10025 "Hot-Rolled Products of Structural Steels" (six parts), stipulating technical delivery conditions for hot-rolled non-alloy, normalised, thermomechanically rolled and quenched steel, and steel with improved atmospheric corrosion resistance
US standards ASTM A36/A36M, ASME A36/A36M, ASTM A283/A283M, ASME A283/A283M, ASTM A514/A514M, ASME A514/A514M, ASTM A572/A572M, ASME A572/A572M, ASTM A573/A573M, ASTM A633/A633M, ASTM A709/A709M, ASTM A830/A830M, etc, which describe specifications for rolled material of standard-strength, medium-strength and highstrength carbon, low-alloy and alloy structural steels
Canadian standard CSA-G 40.21 for structural steels
Japanese standards JIS G 3101, JIS G 3106 for rolled steel for general structures, including welded structures
Ukrainian and CIS standards DSTU 8803/GOST 14637, GOST 1577, DSTU 8541/GOST 19281, DSTU 8539/GOST 27772, DSTU 7806/GOST 4543, DSTU 8817/GOST 6713, TU 14-1-4083-86, TU 5.961-11650-97, and other standards and regulations for specifications of structural rolled steel
Standards and regulations for structural and general-purpose plates encompass steel compositions, mechanical properties (yield strength, tensile strength, elongation, impact energy, etc) and other quality parameters of the product intended for this application. Some standards for bridge construction also set forth requirements for surface quality of shot-blasted plates.
Thickness: 4-200 mm, Width: 1500-3800 mm, Length: <20000 mm

<20 t

Steel grades in
high demand

S235JR, S235J0, S235J2, S275JR, S275J0,
S275J2, S355JR, S355J0, S355J2, S355K2,
S355N, S355M, S355ML, S420M, S420ML,
S460M, S460ML, S460Q, S460QL, S460QL1,
S500Q, S500QL, S500QL1, S550Q, S550QL,
S550QL1, S620Q, S620QL, S620QL1, S690Q,
S690QL, S690QL1, S235J0W, S235J2W,
S355J0WP, S355J2WP, S355J0W, S355J2W,
S355K2W, A36/A36M, 36, 50, 50W, 1045, St3ps,
St3sp, St4ps, St4sp, St5ps, St5sp, 15ps, 15sp,
20, 25, 30, 35, 40, 45, 09G2, 09G2S, 10ХSND,
15HSND, etc

Delivery conditions

Hot-rolled, normalised rolled or normalised,
thermomechanical rolled, and quenched and
tempered
Production of structural and general-purpose steel plates
Structural plates are mainly produced at reversing hot-rolling mills (also by cutting hot-rolled coils into plates). Continuously cast or hot-rolled slabs are used as feedstock to produce plates. Plates are produced by conventional hot rolling or using special thermal deformation processes and heat treatment of the finished products. Key types of metalworking processes for plates used in construction and general applications include:
Hot rolling is a metalworking process in which metal is deformed at a high temperature and then air cooled. Rolling temperature and finishing temperature of rolling are within the austenite recrystallisation temperature range, beyond the typical normalising temperature.
Annealing is a heat treatment process outside a rolling line, which involves heating steel to a temperature above the phase transformation and then holding and cooling it at a slow rate along with the furnace. When annealed, steel acquires higher ductility and lower hardness. There are different types of annealing, namely partial, full, low-temperature, diffusion and recrystallisation annealing. If, after heating, the material is cooled in the air rather than in the furnace, such process is called normalising. This type of heat treatment improves steel strength compared with annealed steel.
Normalising rolling is a steel deformation process at a high temperature, when full deformation takes place at a normalising temperature with a complete recrystallisation of austenite.
Quenching and tempering is a heat treatment process to improve steel strength. Quenching involves heating up to the given temperature (over Ас3), holding and cooling at a high rate using various media (water, oil, ethers, etc) To release the internal stresses after quenching, the rolled steel is subject to tempering at a temperature that is controlled depending on the required properties.
The thermomechanical control process (TMCP) is a technique providing rigid temperature and deformation control during hot deformation at the rolling mill. No other treatment processes can give such properties as TMCP.
Buy structural steel and general-purpose rolled steel from the original manufacturer
Metinvest Group produces structural and general-purpose rolled steel with a thickness of 4-200 mm in accordance with the requirements of international standards and customer specifications. Structural steel is delivered as hotrolled and with special in-line treatment (controlled rolling, thermomechanical rolling, normalised rolling) and heat treatment in furnaces (annealing, normalising, quenching and tempering, etc). Structural steel can be purchased through the Group's global sales network of 38 sales offices in Europe, Asia, Africa and North America, as well as 16 metal service centres in Ukraine and authorised dealers.
Get in touch
Find the nearest office
Subscribe to our newsletter