highlights of 2020
What began as a localised outbreak in late 2019 had become a global pandemic by early 2020, creating a colossal challenge for people, businesses and governments worldwide. Metinvest rose to this by working more closely with all stakeholders, and its results for the year reflect these efforts.
download pdf 177kb
operations
iron ore concentrate output
27,353KT
29,028KT
30,501KT
SUSTAINABILITY
LOST-TIME INJURY FREQUENCY RATE
0.520
EMPLOYEE TRAINING SESSIONS
111,197
ENVIRONMENTAL SPENDING
US$450M
TAXES PAID GLOBALLY
US$612M
COMMUNITY SPENDING
US$15M
Worldwide
One of the global
leaders in steel and
iron ore
Established to manage metals and mining assets in Ukraine in 2006, Metinvest has expanded progressively to become an industry player operating internationally. Today, it has production assets in Ukraine, the EU, the UK and the US, as well as a global sales network. As a vertically integrated business, it supplies raw materials and steel products to customers worldwide.
COUNTRIES
OF BUSINESS
~100
download pdf 639KB
Ukraine
A respected leader
locally
With the vast majority of its assets in Ukraine and other European countries, the Group is well connected to all key regional markets by road, rail and sea.
ENVIRONMENTAL
SPENDING
US$450M
IRON ORE
SELF-SUFFICIENCY
299%
download pdf 639KB
Metinvest was not caught off guard by the tremendous challenges that 2020 presented. Thanks to the achievements of previous years and the reporting period, the Group was able to uphold commitments to stakeholders during the pandemic.
download pdf 2.1mb
In 2020, Metinvest stood in solidarity with its stakeholders to help overcome the unprecedented challenges caused by the global pandemic. Supporting them played a crucial role in the Group achieving strong operational and financial results.
download pdf 1.1MB
stakeholder engagement
Striking
a balance
Metinvest strives to understand and proactively respond to the various concerns of its key stakeholder groups. By adhering to the principles of sustainability the Group is better prepared to meet the diverse needs of its employees, customers, suppliers and contractors, local communities, equity and debt providers and government authorities.
download pdf 304kb
responding proactively to covid-19
For Metinvest, the health and safety of employees is an unconditional priority. As part of this, the Group introduced comprehensive measures to protect staff as soon as COVID-19 became a pandemic. From mid-March, it began providing masks, gloves, sanitiser and other personal protective equipment at facilities; introduced social distancing measures; and started regularly disinfecting its premises and own transportation. In parallel, it cancelled all public events and business trips, and transferred employees to remote working where possible. Since then, Metinvest has monitored developments fastidiously and erred on the side of caution throughout.
Results for 2020
Despite the pandemic, Metinvest continued to meet its social obligations to employees and did not change base salaries. In 2020, the Group transformed its bonus system to incentivise such priorities as health and safety, operational improvements and customer focus. It also expanded its My Choice individual social package to cover more employees and offered additional coverage options under the programme. In addition, Metinvest invested about US$7 million as part of an initiative aimed at improving the amenities and other services provided to staff. Its employee retention efforts helped to further reduce overall staff turnover to around 5%. The Group also integrated 2,800 employees from recently acquired assets into the team during the reporting period.
responding proactively to covid-19
As service inherently involves personal contact and smooth delivery, the pandemic created considerable obstacles, at least initially. However, Metinvest overcame these rapidly, largely through the reach of its global sales network and its ongoing digitalisation drive. While a crisis, the situation also created the opportunity to further strengthen customer relationships, and the Group's local presence was crucial in this regard. In tandem, the sales team adapted to serving customers online rapidly, from negotiating physical orders to providing technical support.
Results for 2020
In 2020, Metinvest advanced the development of its Key Account Management programme by updating the methodology for segmentation and selection of key customers. This helps to improve the customer service culture. Cross-functional teams continue to work actively with such accounts, as in the previous year, in order to provide a complex solution. During the reporting period, the Group's steelmakers developed 46 new steel products: semis, plates, hot-rolled coils, cold-rolled products, galvanised products and electric welded pipe. A key new product for Central GOK was pellets used in DRI technology, a new market segment for Metinvest.
suppliers and contractors
responding proactively to covid-19
In terms of health and safety, Metinvest has long treated in-house staff and external workers alike, and COVID-19 only reinforced the importance of this. Again from the outset of the pandemic, to protect everyone – whether employed internally or sourced externally – the Group introduced temperature screening at points of entry to facilities and at regular intervals inside. To support this and the drive to contain any wider spread of the virus, it also implemented a contact tracing system for all visitors to premises. As some contractors were unable to visit production sites because of restrictions, digital tools were used during equipment installation, testing, remote training and other activities.
Results for 2020
During the year, to improve the efficiency of procurement for all parties and increase the transparency of this process, the Group added nine assets to its electronic trading system, which now covers 18 assets in total. As part of the introduction of the SAP ARIBA SLP Module reported in the previous annual report, Metinvest has unified the pre-qualification procedures for all suppliers and made it possible to self-register, in line with the overall drive to automate processes. During 2020, there were around 5,100 pre-qualification reviews, which resulted in the selection of about 560 new suppliers, while some 70 existing ones were disqualified.
responding proactively to covid-19
The pandemic also prompted Metinvest to bolster existing support for local communities where it is present, as they are the lifeblood of the business. Healthcare and social assistance were critical. Working closely with municipal bodies, among other measures, the Group purchased and distributed express COVID-19 tests to medical institutions and food packages to retired employees, as well as installed oxygen supply points and lines at local hospitals. In addition, at the national level, it financed the delivery of over US$1 million of humanitarian aid from China to Ukraine.
Results for 2020
During the year, Metinvest deepened its social partnerships with non-governmental organisations in Ukrainian cities. In addition to Mariupol, Kryvyi Rih and Zaporizhia, this successful model for community relations has been rolled out to Avdiivka. These partnerships help to improve social infrastructure, protect the environment and support initiatives in education, healthcare, sport and culture.
equity
and debt providers
responding proactively to covid-19
Given the situation, working together more closely with investors and bank lenders was also of paramount importance. Mindful that communication also plays a vital role in this, Metinvest gave regular, timely updates to the financial community on its efforts to deal with COVID-19. In March 2020, it took all communication online. In addition, despite the prevailing turbulence, the Group concluded several significant financial transactions, including involving a major Eurobond refinancing, a credit facility from an international financial institution and loans covered by European export credit agencies.
Results for 2020
During the year, Metinvest published monthly and quarterly financial results, quarterly operating results, semi-annual and annual financial statements, and corporate presentations and other materials. The Group worked diligently to maintain the trusted relationships developed with the financial community. Regular communication allowed Metinvest to proactively improve its bond portfolio quality when debt market conditions were favourable. The Group also received continued support from banking partners, signing several new facilities that provided an additional liquidity cushion. Recognising the heightened attention that equity and debt providers are paying to ESG matters, Metinvest is working towards expanding the scope of disclosure in this area.
responding proactively to covid-19
As Metinvest is one of Ukraine's largest employers and taxpayers, its relationships with authorities are central to the country's prosperity. From the moment that COVID-19 took hold, the Group sought greater dialogue with administrations at all levels, as communication in such times is key. To support national and local budgets, it waived the offer of a tax holiday. In Italy, in response to a government decree in March 2020, Metinvest halted operations at both of its re-rollers for around one month, resuming operations following permission.
Results for 2020
During the reporting period, the Group maintained an active dialogue with government authorities in the cities, regions and countries where it is present. It sought balanced outcomes to ensure that it and the broader industry can operate under a reasonable regulatory burden, while contributing to community development on the local and national scale. To continue providing much-needed budget revenues to local government stakeholders in Ukraine, Metinvest decided to forego tax holidays offered as a form of pandemic relief for businesses. In 2020, the Group paid US$612 million in taxes globally.
download centre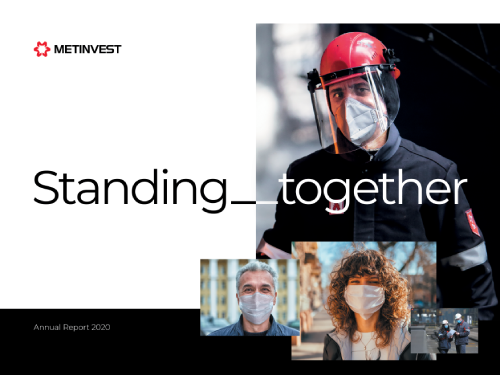 download pdf 6.7mb
annual report 2020
Strategic report
Sustainability report