About Metinvest
Metinvest is an international, vertically integrated group of steel and mining companies. It has assets in Ukraine, the EU, the UK and the US, as well as a sales network covering the major regions of the world. The Group controls the entire production chain, from mining iron ore and coking coal to making and selling semi-finished and finished steel products.
Find out more (pdf)
METINVEST IN NUMBERS, 2020
STEEL PRODUCERS IN THE WORLD
Top

45
IRON ORE PRODUCERS IN THE WORLD
Top

10
IRON ORE CONCENTRATE
30.5

MT
COKING COAL CONCENTRATE
2.9

MT
GLOBAL TAXES PAID
US

$612

M
SPENDING ON HEALTH AND SAFETY
US

$106

M
ENVIRONMENTAL SPENDING
US

$450

M
SPENDING ON COMMUNITIES
US

$15

M
SPENDING ON EMPLOYEE TRAINING AND DEVELOPMENT
US

$3

M
CHAIRPERSON'S STATEMENT
Last year brought many unexpected challenges, mainly related to the COVID-19 pandemic. Despite this, we maintained the continuity of our business and ended 2020 with decent operational and financial results. In 2020, we continued to contribute to the achievement of the UN Sustainable Development Goals by introducing environmental measures, addressing social issues and improving our corporate governance.
Find out more (pdf)
CEO'S STATEMENT
Sustainable development remains one of Metinvest's uppermost priorities and the foundation of its business strategy. In 2020, we joined the global community in the fight against COVID-19 and took unprecedented measures to protect our employees, help local communities in the regions where we operate, and support customers and partners.
Find out more (pdf)
SUSTAINABLE DEVELOPMENT
Achievement of

the Sustainable Development Goals
Metinvest follows the principles of sustainable development in its business activities. For us, this means being environmentally responsible; developing local communities in the regions where we operate; caring for the wellbeing, health and safety of our employees; and supporting our customers and contractors.
Find out more (pdf)
Metinvest's sustainable development priorities
Health and safety of employees
Environmental protection and energy efficiency
Employee wellbeing and development
Development of local communities
Business ethics and corporate governance
Quality of products and services
In 2020, Metinvest focused its efforts on the five UN Sustainable Development Goals that are most relevant for the business. Our initiatives centred on ensuring appropriate occupational health and safety standards; supporting and developing local communities; updating approaches to operational efficiency during the COVID-19 pandemic; modernising equipment to reduce environmental impact; and developing a comprehensive action plan to reduce emissions and improve energy efficiency.
ENVIRONMENTAL ACTION
Preserving
the environment
The long-term success of Metinvest's business is directly dependent on environmental sustainability. As such, we focus our efforts on minimising our environmental impact and supporting actions to tackle climate change.

The Group's key environmental principles include complying with legislative requirements, implementing rational natural resource management policies, introducing more environmentally friendly production methods and establishing multi-level systems to control environmental impact.
Find out more (pdf)
Addressing climate change
In 2020, we singled out UN Sustainable Development Goal 13 – "Take Urgent Action to Combat Climate Change and Its Impacts" – as one of our priorities for sustainable development. Our environmental approach includes working to enhance community awareness of GHG emissions, engaging with industry associations, and supporting open dialogue with our stakeholders on climate change to find opportunities for joint research and development initiatives in this area.

Metinvest aims to sustain a trend of meaningful, incremental reductions in the GHGs that it produces. In the past decade, it has made significant iterative progress in doing this. From 2011 to 2020, its annual direct GHG emissions (calculated for each installation in line with methodologies applied by local regulators) declined from 29.5 million tonnes to 9.3 million tonnes of CO2 equivalent.

The Group is working to develop a long-term decarbonisation roadmap, backed by clear targets and technological tasks. The key focus will be on the steelmaking and coking assets, as the largest contributors to GHG emissions.
As of 1 January 2021, the way in which the Group calculates its GHG emissions changed, following the adoption of Ukraine's new Law "On the Principles of Monitoring, Reporting and Verification of Greenhouse Gas Emissions", which is aligned with the EU approach. In 2020, we analysed the impact that this new calculation methodology would have and took steps to prepare the information needed to report the required indicators.

Metinvest understands how important GHG data disclosures is for its stakeholders. The Group is obliged to report new data for 2021 in 2022. For reasons of accountability and transparency, historical figures presented in this report have been proactively recalculated to ensure comparability between reporting years and with other similar mining and metals companies.
Energy efficiency
In 2020, Metinvest continued to develop and implement energy efficiency projects. This contributed to an increase in energy saving by 7% year-on-year, including increase in electricity saving by 5% year-on-year. The main savings came from Azovstal, which generated an additional 54 million kWh of electricity internally after repairing the turbine at its power station that produces electricity and compressed air for blast furnaces, thereby reducing the need for third-party purchases. An additional improvement in electricity saving came from Ilyich Steel optimising the cut of slabs at its
hot strip mill 1700.
Increase in total energy savings in 2020
7%
In 2020, the Group spent US$8.2 million on energy efficiency programmes, up US$1.3 million year-on-year. In addition, it signed an agreement with YASNO Energy Efficiency (YASNO) to continue implementing the energy efficiency projects at Metinvest's assets. In the reporting period, we worked with YASNO to implement five energy service projects. They included the upgrade and replacement of the lighting systems at Ilyich Steel and Northern GOK, as well as the installation of a new compressor station at Central GOK's Ordzhonikidze mine.
Air quality
In 2020, Metinvest made progress on several key projects to reduce air emissions, including modernising gas treatment systems and units, blast furnaces and the aspiration systems of basic oxygen furnace (BOF) shops.

We also completed the initial scope of the environmental modernisation at Ilyich Steel's sinter plant, which took seven years. After the gradual commissioning of all new filters of the gas cleaning equipment at sinter plant, we expect to reduce dust emissions by 90% and sulphur dioxide emissions by 46%. In 2020,
Ilyich Steel also built new gas cleaning facilities for the casthouse and stockhouse of blast furnace no. 3, which will further reduce dust emissions.
Dust emissions reduction in 2020
12%
At Azovstal, the Group completed the modernisation of the aspiration system for the mixer department in the BOF shop. Northern GOK began replacing the gas cleaning facilities of its Lurgi 552-A roasting machine. Kryvyi Rih Machining and Repair Plant replaced the bag filters in the gas cleaning system for furnace no. 6. Avdiivka Coke finished assembling the gas cleaning equipment in the area of line no. 4 of the crystallisation department of its phenol and naphthalene production facility. Metinvest continued to implement a systematic programme of major maintenance on the coke furnace chambers at Azovstal,
Avdiivka Coke and Zaporizhia Coke.
Water resources
Metinvest carefully monitors the quality of water resources that are used and withdrawn by its assets. It is vital to ensure that our impact on water resources is within the boundaries specified in environmental standards. We monitor our impact and regularly modernise our laboratories to ensure the accuracy of our measurements.

The Group's production assets use fresh and salt water from surface and ground water sources and utility systems. We do not consume water from areas undergoing water stress.
Share of recycled water in 2020
81%
In 2020, Metinvest's systematic efforts to improve and mitigate its impact on water resources, increase operating efficiency and ensure proper maintenance resulted in a share of reused and recycled water withdrawn from all sources, including previously recycled, of 81%, up one percentage point year-on-year. In 2020, the Group reduced the total volume of water intake and discharge by 4% and 3% year-on-year, respectively.

Another positive factor was the ongoing investment programme, which included installing a new cooling system at Azovstal's blast furnace no. 3 and performing capital overhauls of Avdiivka Coke's recycled water supply systems.
Share of fresh water consumption in 2020
19%
Managing waste
Metinvest strives to minimise the volume of waste that it generates, as well as maximise its reuse and recycling, through the production of crushed rock, replacement of iron ore raw materials, and the construction and repair of roads.

The Group deposits its waste only in specially designated areas, such as slagheaps and tailings, slag and sludge storage facilities. We closely monitor the long-term safety of such places, carrying out regular internal and external inspections.
In 2020, Metinvest generated 255 million tonnes of industrial waste from production, 97% of which was non-hazardous, mostly overburden and tailings from the iron ore producers.

The volume of recycled waste was 24%, down 4 percentage points year-on-year. This decrease is the result of two factors. First, more intensive utilisation of slag products from the Mariupol steelmakers and a higher volume of construction waste at Northern GOK in 2019. Second, greater iron ore production in the reporting period.
Biodiversity
An integral part of Metinvest's activities is the complete restoration of disturbed lands as a result of its mining operations and biodiversity conservation.

In 2020, Ingulets GOK performed various work at its tailings storage facilities using fertilisers and rapeseed, planting 7,000 young acacia, ash, mulberry and pine trees, and more than 100 kilogrammes of field, pasture and nectar-bearing grass seeds.

To support an environmental protection programme by the city of Kryvbas over 2016-25, Northern GOK planted 20,000 young trees as part of a landscaping project covering 10 hectares in the sanitary protection zone of Pervomaiskiy open-pit mine.
Central GOK planted 900 trees and shrubs and used overburden to conduct mine restoration work at depleted deposits in open-pit mine no. 2.

Metinvest continued to support and develop the territory of the Vizyrka nature reserve. In 2020, Ingulets GOK built a paved road to open-pit mine no. 3 in the reserve and released 3,000 juvenile carp into the open-pit mine lake. In the summer and autumn, clean-up work involving volunteers from NGOs and city residents was organised in the area.
DOWNLOAD CENTRE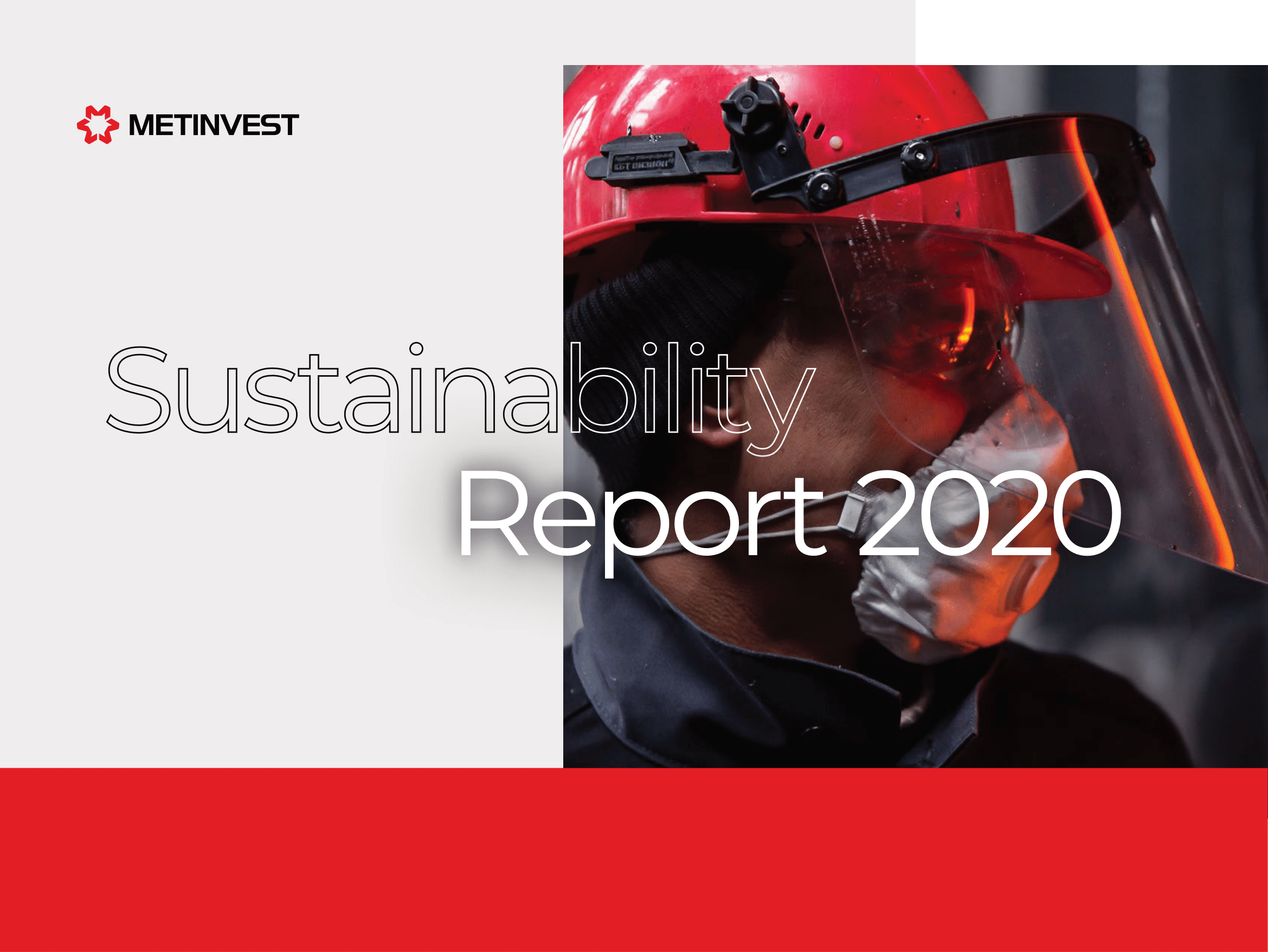 download pdf
CORPORATE GOVERNANCE
ENVIRONMENTAL ACTION
EMPLOYEES
LOCAL COMMUNITIES